Palmer Shorthand Numbering System
Palmer Shorthand Numbering System for the Secondary Dentition
The Palmer or Palmer/Zsigmondy numbering system uses one of 4 quadrant symbol designations for each of the four quadrants.
Palmer System Quadrants

= Maxillary right

= Maxillary left

= Mandibular right

= Mandibular left
The quadrant symbols are used for both the primary and secondary dentitions.
Each quadrant in the secondary (permanent) dentition has eight teeth. The teeth are numbered from 1-8 in each quadrant with 1 representing the central incisor and 8 representing the third molar. The tooth number is placed within the appropriate quadrant symbol.
For example, the Palmer shorthand designation for the secondary mandibular left first molar is

.

Palmer Shorthand Numbering System for the Primary Dentition
The Palmer shorthand system uses the letters A-E to represent the 5 teeth in each quadrant of the primary dentition. Beginning at the midline, A represents the primary central incisor while E represents the primary second molar.
Palmer System Naming of Primary Teeth
A = central incisor
B = lateral incisor
C = canine
D = first molar
E = second molar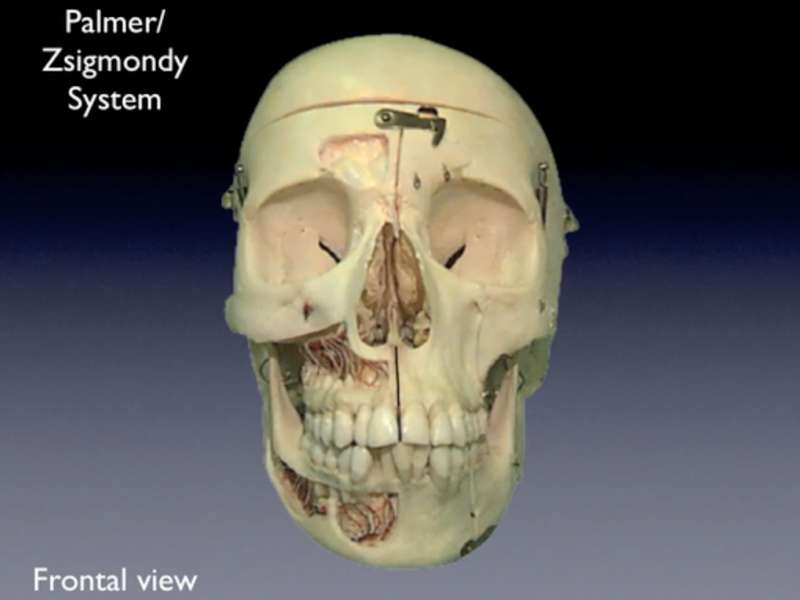 Click on the movie icon above to view the Palmer Zsigmondy shorthand system.